Free Thanksgiving Day Meal | 2019
A free home cooked meal on Thanksgiving Day
Free Thanksgiving Day Meal | 2020
We are so excited to cook for you!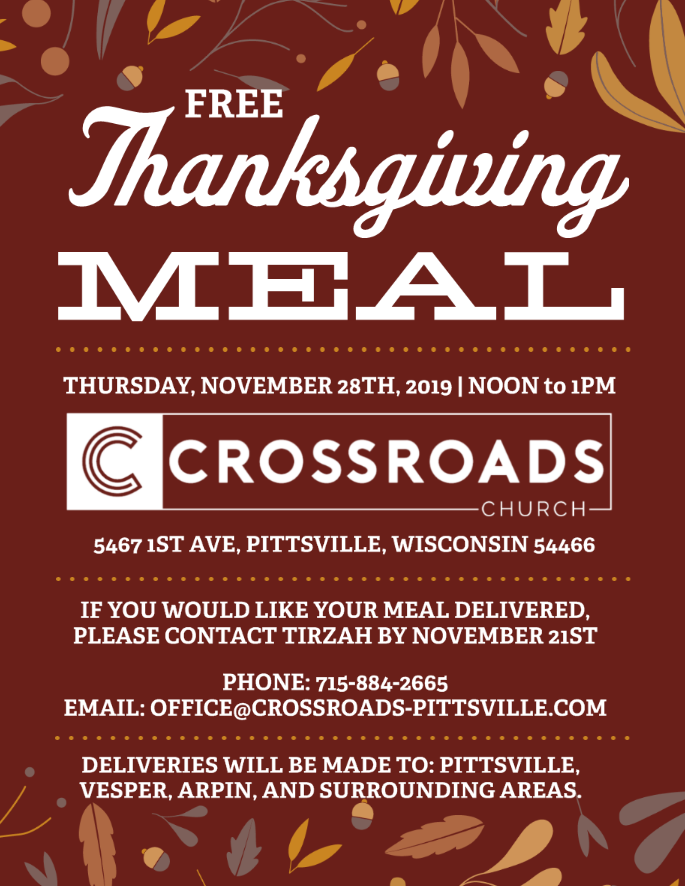 WHERE IS THE FOOD?

We serve homemade Tradition Thanksgiving meals on Thanksgiving Day, from Noon to 1:00PM at Crossroads Church, 5467 1ST AVE, PITTSVILLE, WI 54466.
WHAT KIND OF FOOD CAN I EXPECT?

Everything you would expect at a Traditional Thanksgiving meal; from the oven baked Turkey, real mashed potatoes, local cranberries, green bean casserole, and of course… a variety of pies!
WHAT ABOUT MY KIDS?

All ages are welcome!
Not able to come in?
We offer deliveries for Pittsville, Vesper, Arpin, and surrounding areas.
Give us a call at 715-884-2664 or fill out the form below to have you meal delivered.
Our driver's try to leave Crossroads Church by 11AM, in hopes of delivering each meal by Noon.
CONTACT US
Sunday Services at 9:30AM
(715) 884-2665
Copyright 2019, Crossroads Church. All Rights Reserved